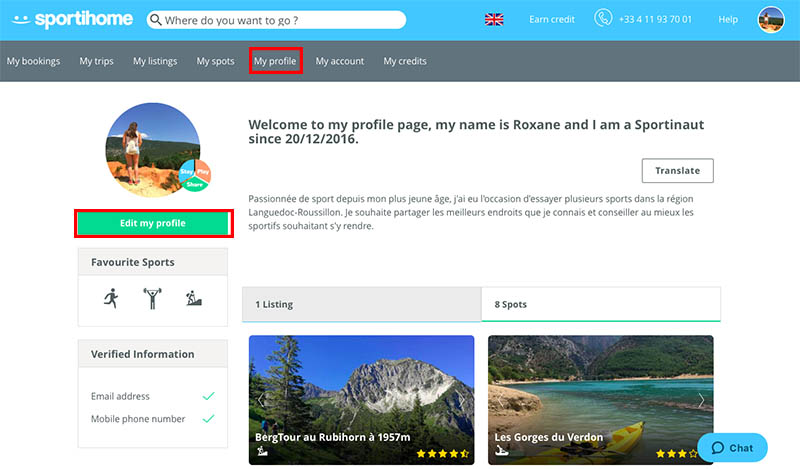 To make everything nice and friendly, we recommend that you personalise your profile. Hosts like to know a little bit about their guests, just as guests like to know a little bit about their hosts.
To do this, go to the top right-hand corner, hover your avatar, then click on "Edit my profile".
On this page, you can:
Download a profile photo, (photos are important to hosts and guests alike. Hosting a landscape isn't all that much fun! Upload a photo that clearly shows your face.)


Select your 3 main sports (if your sport isn't listed, or you don't have a sport, select "other". If your sport is not on the list, please don't hesitate to tell us about it through the contact form).


Select your level of interaction (to find out more about this, click on this link what are you ready to share?),


Tell us about yourself, by adding a description of yourself in the "About me" section (What are your favourite sporting activities, what spots are you familiar with, etc. Just a few words suffice to give your future hosts some idea what to expect.)


And enter your phone number (it won't be revealed to your host until after the booking request has been validated).
After that, click on "Save" and then "View my profile"
Clicking on "View my profile" takes you to "My profile page" . You can now add a cover photo, for instance a nice landscape shot of a spot you like. To do this, click on the camera icon, then select your cover photo from your computer.
On the page "My profile page", you'll find all the information that can be viewed our online sporting community. Your profile photo, your cover photo, your sports, your level of interaction, your descriptions, your published listings and shared spots, and the listings and spots you've recently viewed or saved as favourites.
_____________________________________________________________________________
ON YOUR MOBILE PHONE
Log in to Sportihome
Once you're on the website, press MENU
Then"My Profile"
You can upload your profile photo here, write a little about yourself and your sports, and enter your phone number