To fill in your BIC and your IBAN, follow the instructions:
Click on your profile picture on the upper right of your screen
go to "my account" on the grey banner
Then "payment preferences"
You can "add your bank details" and "information".
REMINDER : all the information we ask are needed to confirm your bank account. That means:
- Domicile country of your bank account
- First name and last name
But also the steps below :
- First name and last name
- Date of birth (to prove your identity)
- Bank address (with city and postal code)
Last, you have to check the box "I agree that Stripe secure the payment"
If you miss one of that information, your bank account won't be confirmed on Sportihome.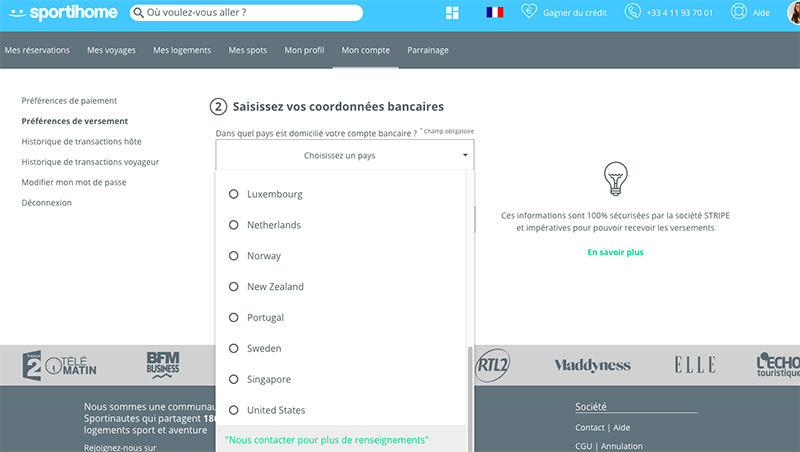 * List of Authorized Domiciliation Countries of your bank account to be paid from your rental income:
Australia, Austria, Belgium, Canada, Denmark, Finland, France, Germany, Hong Kong, Ireland, Italy, Japan, Luxembourg, Netherlands, New Zealand, Norway, Portugal, Singapore, Singapore, Spain, United Kingdom, United States , Switzerland, Sweden, Brazil, India, Mexico
If your bank account is not domiciled in one of these countries, contact us HERE so that we can pay you your rental income from our platform.